Arts Center
If you'd like your next performance, seminar, or meeting to take place in a beautiful facility known for its flexible spaces, top-notch technical knowledge, and professional personnel, look no further than the arts center! It is ideal for performing arts events.
Rental spaces accommodate a wide variety of set-up requirements.
We offer complete event service from behind-the-scenes planning to box office and day-of-event services.
The arts center is easy for guests to find—we're minutes from I-90, U.S. 20, and Randall Road.
We have plenty of free parking.
Facilities are easily accessible for people of all abilities.
Blizzard Theatre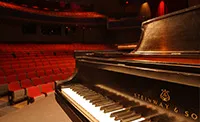 The Blizzard Theatre is a 662-seat proscenium-style theatre with comfortable seating and great sightlines.
---
SecondSpace Theatre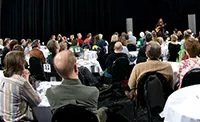 The second space Theatre is an intimate 168-seat "black box" theatre with numerous possibilities for set-up.
---
Other Venues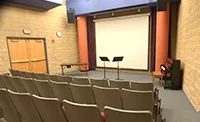 Dance studios, large rehearsal rooms, and numerous classrooms are also available.
How to Rent Space(s) in the Arts Center
Check on availability of Arts Center facilities - artsoperations@elgin.edu or 847-214-7140.
Discuss details of your event with the manager of performing arts, who will put together an estimate of charges for your event.
Reservations are held with an approved estimate of charges, a signed contract, and a deposit of 20 percent of the total estimated charges. (Outstanding balances due 10 days before your event.)
Secure a "certificate of liability" insurance policy naming ECC as additionally insured.